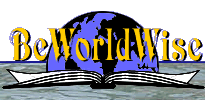 Curriculum
Here you will find fully developed, multi-lesson units designed to expand on our experiences aboard a working tall ship sailing the globe, and individual lesson plans that enhance particular events. Delve into oceans or explore environmental issues, learn how to tie some basic knots or what it's like to be a baby turtle.


Book List
Here are a few great books we have found where you can learn more about the places we go and things we do. They are organized by age group. You can even order them directly from Amazon.com!
Off-site Links
Want to know more about something we've talked about? We've searched the Web to find some of the best Web sites on topics from geography to weather, oceans to animals.