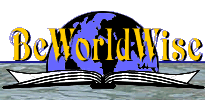 Mission
WorldWise merges technology and Tall Ships to enrich the cultural education of students in North America and provides for the material educational needs of schools in remote islands and isolated tropical communities throughout the South Pacific, Indonesia, Africa and the Caribbean.
Click here to learn how we accomplish this…
Read our current team member's bios, and learn how and why they came to be onboard the Picton Castle.
Sponsors
WorldWise would not be here without the generous contributions of all of our sponsors! Click here to view all of our sponsors…
WorldWise now accepts donations online! Donations of all sizes are welcome and will be gratefully accepted. You can make a world of difference! Click here to learn more…
Contact Us
We always love hearing from you. If you have any questions, comments or concerns, please feel free to let us know!