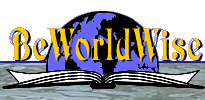 WorldWise merges technology and Tall Ships to enrich the cultural education of students in North America and provides for the material educational needs of schools in remote islands and isolated tropical communities throughout the South Pacific, Indonesia, Africa and the Caribbean. We accomplish this by:
Partnering with the sail training ship Picton Castle, the only Tall Ship currently executing round-the-world sail training voyages,
Placing educators onboard the Picton Castle as crew on her 12-month global circumnavigation;
Soliciting and collecting educational supplies such as books, maps, paper, pencils, crayons and chalk from schools, institutions, organizations, and individuals throughout the U.S. and Canada;
Distributing those 20-30 tons of supplies to schools in ports where literacy rates range from 20-75%;
Incorporating the stories from the ship's 12-month voyage into a child-focused, interactive Web site for schoolchildren, homeschoolers and families, allowing them to share in our experiences of circumnavigating the globe in a Tall Ship;
Building a system of sister schools; creating and strengthening relationships between North American schoolchildren and classes in the ports we visit and providing opportunities for learning and friendship beyond the ship's visit and for future voyages.
We aim to:
Foster greater cultural awareness and broaden the cultural understanding of children, teachers, and parents by giving them access to information not found in textbooks about the cultures and lives of people we meet,
Promote the ideal of social responsibility in North American children,
Use the voyage of a Tall Ship and the World Wide Web to ignite children's imaginations and
Provide educational opportunities to children in remote and developing areas of the world by sharing basic but vital educational supplies.
Exploring and discovering the world in a traditional sailing ship, we are uniquely poised to help provide for the educational needs of schools in some of the world's most remote communities through the direct donation of basic educational supplies.
We strive to make children feel valued and respected by giving them a voice heard 'round the world.
Make a Donation
WorldWise, Inc. is a 501 (c)(3) not-for-profit organization. We are in immediate need of contributions from corporate sponsors and individuals to achieve our goal of keeping qualified, creative educators on board, purchasing computer and communication equipment and services, and maintaining our interactive, educationally enriching website.
Click here to learn more…or use one of the below method to make a contribution.