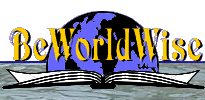 Ship's Logs
January 28, 2006
Tropical Storm Boloetse
PICTON CASTLE: 20° 56'S / 55° 17'E
Tropical Storm, Boloetse: 22° 6'S / 50° 9'E
Early on in this our Fourth World Voyage, a few truisms revealed themselves to the PICTON CASTLE's bright-eyed and green-handed crew; First, the PICTON CASTLE is pretty much guaranteed to not leave port when she thought she would; and second, if it's not the cat's fault, then it's the weather!

See where we are, where we've been and where we're headed. Get some fun facts about the countries we're visiting! CLICK HERE to take a look.

Mini Movies
Mini MoviesSometimes the things we see are too exciting for one picture! View some of our 15 second movie clips to see the sights and hear the sounds from around the world! CLICK HERE to take a look.

Snapshots
SnapshotsYou won't believe some of the things we have seen along the way! Visit the Snapshots section and take a peek – you can even email our snapshots to your friends. CLICK HERE to take a look.
Itinerary
Like to look at lists rather than pictures? Find out when and where we're going to be at our next port. CLICK HERE to take a look.